The Arturia KeyLab 61 MKII Review
The Arturia KeyLab 61 MKII Is a top-of-the-line Midi-Controller. High quality, and high class.
Introduction
I love Arturia, from their synth plug-ins to their actual synths. They are a great company, and when it comes to Midi Controllers they do not let you down! I love the Arturia Keylab MKII, even though the first one I received was absolutely busted and one of the keys didn't work and the knobs and sliders caused my computer to emit a high-pitched whine… it was the seller's fault, not Arturia's, and the fact I bought another one after such a fail tells you something.
Parlours Music is supported by its audience. When you purchase through links on the site I may earn an affiliate commission. Thank You, it's what keeps the site free for everyone!
First Thoughts:
Key Feel:
I disliked the key lab keys. But 61 keys is a good number.
Knobs and Sliders:
These are very nice and textured
Customization:
Customization:
Insane amounts of customization options.
Usability:
Easy to use, hard to master
Drum Pad:
Solid
The Keyboard:
Back to the keys, they may be semi-weighted as described, but they really did not feel weighted at all. Bear in mind this is my first review, but I use a 88 key Casio 100s that does have weighted keys and the difference was great. I have also used the Akai MPK 249, and those keys are more what I would describe as semi-weighted, and I really enjoyed them. But the Arturia Keylab MKII keys feel too light and airy.
The knobs are very clicky and satisfying to use, the sliders are smooth and are only a little light to the touch. The buttons are plastic and hard and there are lots of them. The drum pad was kind of meh, it is not the biggest but that's ok, but the pads just felt too harsh to me.
The aesthetics are insane. This thing looks beautiful, it has a nice little wood finish on the edges with metal trim, and the rest of the keyboard has a nice heavy metal feel, that is really cool like it is literally cold to the touch. It looks really cool and that's mainly why I bought it. I suggest the white color as it really stands out.
The Software:
This thing is so cool, you can split the instrument halfway along with the piano, and that is just the coolest thing to me. The plug-ins have tons of presets, but I just mainly use omnisphere so it didn't really sell me on switching. The chord and key change options are super cool. It has a very cool chord memory mode which, makes playing complex things easy… though it does feel like cheating.
There isn't much more to say, I didn't have the keyboard for a long time because I returned it for a smaller one because I could not move with the 61 keys. Overall the Arturia Keylab MKII comes with great software additions and customizability.
Where to Buy
Where to Buy
$549.00
In Stock
12 new from $549.00
2 used from $456.01
as of March 31, 2023 5:49 am ⓘ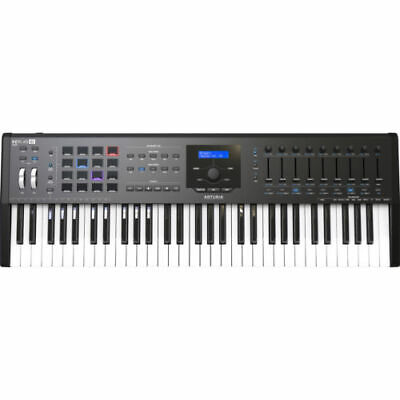 Videos
Price Tracker
All prices mentioned above are in United States dollar.
This product is available at Amazon.com, eBay.
At amazon.com you can purchase Arturia KeyLab 61 MKII Keyboard Controller (Black) for only $549.00
The lowest price of Arturia KeyLab 61 MKII Keyboard Controller (Black) was obtained on March 31, 2023 5:49 am.
Price history for Arturia KeyLab 61 MKII Keyboard Controller (Black)

Latest updates:

$549.00 - February 18, 2023
$539.00 - February 12, 2023
$549.00 - February 2, 2023

Since: February 2, 2023

Highest Price: $549.00 - February 2, 2023
Lowest Price: $539.00 - February 12, 2023
Didn't find the right price? Set price alert below
Set Alert for Product: Arturia KeyLab 61 MKII Keyboard Controller (Black) - $549.00
Our Score