What is a Pineapple Ukulele?
The Pineapple Ukulele is a member of the ever-growing ukulele family. Tuned to a standard GCEA which is the same as all the other ukulele family members except the big kahuna baritone ukulele. The pineapple uke, as you can see below, resembles the soprano ukulele, and some people prefer to call it a variant shaping of the soprano, with Hawaiin aesthetics.
The Pineapple ukulele shares the same frequencies and general sound as the soprano ukulele, but there are some important nuances we will cover in this guide. The sound difference, shaping, and playability. Ending with my recommendations for a pineapple uke!
Now that you've been formally introduced, let's get to know our friend the Pineapple Ukulele a bit better!
Parlours Music is supported by its audience. When you purchase through links on the site I may earn an affiliate commission. Thank You, it's what keeps the site free for everyone!
History of Pineapple Ukulele:
Samuel Kamaka, the founder of the Kamaka Ukulele brand, is widely credited with inventing the pineapple uke.
They saw the resemblance to a pineapple that the instrument held, and so the pineapple ukulele was born!
You can see below the patent he filed all the way back in 1928. Apparently, Mr. Kamaka was very interested in innovating new ukulele shapes. And so he showed his friends an oval design, that he thought would be cheaper to make and would sound better.
Is it really better, cheaper, and more stylish? Well, you can be the judge of that!
Do Pineapple Ukuleles Sound Different?
Sound is really important, and so usually the first question people ask is: Do these Fruity Ukes really sound different?
Short Answer
Yes, They Do.
Long Answer
The general consensus is that the pineapple body makes the uke sound louder. The tone is more full, and relaxed, and there is heavier resonance compared to the standard-shaped body.
The physics behind this is that the pineapple ukulele's body is more voluminous, and holds more air. The larger side panels also allow for vibrations to run the entire length, which is also longer, of the ukulele, compared to the standard body shape, which curves inward and generally isn't a single piece of wood.
Take into consideration that, materials, construction, strings, and a whole slew of other factors, ultimately determine the ukulele's sound. So it is entirely possible for there to be many confounding variables in these instances. A very cheap cardboard pineapple ukulele will not be more resonant than a super expensive standard soprano ukulele with a great setup.
So I encourage you to try these ukuleles before buying.
How do you Play the Pineapple Ukulele?
Well, it's actually quite easy and most people don't note any difference between this ukulele and other types. You cradle the body in your arms. Play notes with the left hand, and strum with the right.
The larger shape may let you get a better grip or feeling of the ukulele but nothing majorly different. This is due to the Ukulele's uniquely small size. If you turned a double-bass into a pineapple double-bass some people might take issue with it. But generally playing this ukulele is like playing any other.
Does the Shape of the Ukulele Matter?
Yes, as noted above the size can alter playability, sound, and a few other items including:
Construction
Pineapple soprano ukuleles use less wood than their standard counterparts. Yet are overall larger in volume. This is because of the S shape curved siding of normal sopranos which takes up more surface area than a single curve.
Transportation
There really isn't a major difference here. But the pineapple ukulele may be more prone to surviving falls, and transportation fails.
This is because of the higher resonance and ability to spread the shock of a fall around the entire ukuleles bass easier and more readily.
How to Tune Pineapple Ukulele.
The Pineapple ukulele is tuned to GCEA, standard re-entrant tuning. You see this in instruments like violins and banjos.
So, when holding the ukulele, your bottom string will be a G, then C, then E, then A. You can tune your pineapple uke by turning on your mic and using an online tuner. Or a handheld device, or iPhone app!
How Much is a Pineapple Ukulele?
Pineapple Ukulele's come in a wide range of prices:
Low End: $0-100
Mid Range: $100-300
High End: $300-Infinity
Below are my top 3 picks for Pineapple Ukuleles!
Best Pineapple Ukulele
1) Ukulele Soprano Kala KA-PSS Pineapple Pineapple Mahogany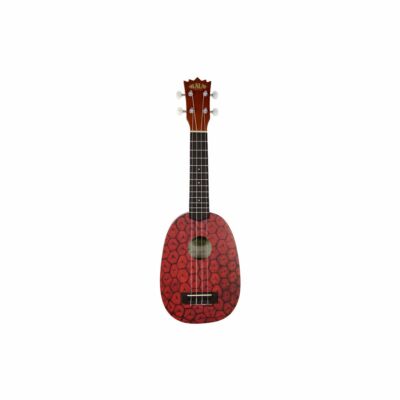 KALA Ka-Pss Mahogany Ply Soprano Ukulele Pineapple Incl. Bag
Item condition: New
Ended: Aug 30, 10:01 PST
as of November 30, 2022 3:27 pm
Overview
Kala, which is different from the Makala line you will see later, makes some of the nicest ukuleles around. I have quite a few Kala ukuleles and they always sound splendid! This ukulele gets a first place because it stays true to the patent and vision of Kamaka from a hundred years ago. I mean look at that patterning and design. This thing is stylish and sounds great when you play it, what more could you ask for!
Sound
This might be some placebo effect from the ukulele looking so amazing, but it also sounds astoundingly good! Very warm and mellow tones. Free of any harshness, which is exactly what you look for in a ukulele. This is a great quality ukulele, and the rich deep tone speaks for itself.
Materials
Body- Mahogany
Fret Board- Rosewood (12 frets)
Bridge- Rosewood
Saddle and Nut- NuBone by GraphTech
Bindings- Red Tortoise
Tuner- Chrome
Who is It For?
Anyone who wants a seriously stylish pineapple ukulele.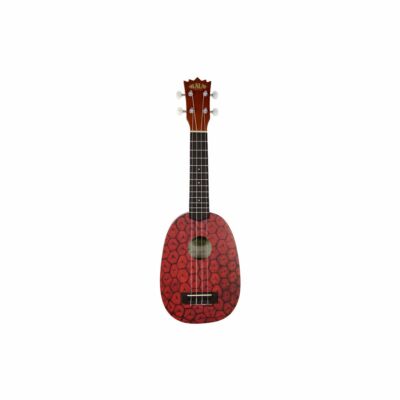 2) Enya Pineapple Soprano Ukulele
Enya Pineapple Soprano Ukulele 21 Inch HPL Beginner Kit With Bundle Includes Online Lessons, Case, Strap, Strings, Capo, Sand Shaker, Picks, Polish Cloth (EUP-X1)
as of December 4, 2022 7:54 pm ⓘ
Features
♫ Great quality and durability guaranteed with HPL KOA materials. Just grab and play wherever you like without worrying about temperature and humidity.
♫Unique BT Neck Junction ,Premium sound & Comfortable holding. Designed to optimize playing experience.
♫ [Stable Voice] Mahogany neck and advanced fluorocarbon strings ensure the quality of voice.
♫ Acoustic Mahogany Soprano Ukulele with Richlite fingerboard, high-end tuning pegs, matte finish, and Enya carbon strings – Tuned G C E A
♫ Free accessory package includes EVERYTHING you may need! (case, strap, extra string set, capo, sand shaker, picks, polish cloth)
Overview
Enya is another well-known ukulele brand that I can get behind. What I love so much about this ukulele is that it comes with an entire playing kit: case, tuner, strings, and strap! The Laminate Wood it is made out of makes sure you don't have to worry about temperature or humidity when playing.
Sound
The Enya sounds magical. It's such a cute and gentle-sounding ukulele. It maintains bright and warm sounds, but is a lot more mellow than the other ukuleles on this list. That might have to do with the fact the body isn't mahogany but HPL
And with the capo, sand shaker, and accessories that come with this kit, you can make a ton of sounds.
Materials
Body- HPL (High Pressure Laminate, this thing ain't gonna crack)
Fret Board- (12 frets)
Bridge- Wood Laminate
Neck- Laminate Mahogany
Who is It For?
Someone who wants a versatile pineapple ukulele that comes with the entire set up!
$89.99
In Stock
as of December 4, 2022 7:54 pm ⓘ
3) Kala KA-MK-P Makala Pineapple Soprano Ukulele
Kala KA-MK-P Makala Pineapple-Style Soprano Ukulele
16 new from $59.00
Free shipping
as of December 3, 2022 10:47 am ⓘ
Features
Kala Ukulele, known for high-quality instruments, is the most recognized and sought after ukulele brand in the world. Kala ukuleles are the instrument of choice for schools - more people learn to play on a Kala than any other ukulele brand
Overview
Kala's KA-MK-P is marketed as the best entry-level pineapple ukulele. And I'd honestly agree with that. It's nothing crazy and it really is what they say it is. Anyone looking to buy a pineapple ukulele as a gimmick or begginer instrument should start here.
Sound
The sound is warm and quite acceptable for $50. The mahogany wood seems to always provide a genuinely nice tone no matter the quality.
The sound is kind of boxy, but overall it's bright and maintains the distinct tone of ukuleles. A little plastic but that's to be expected at price points below or at $50.
Materials
Body- Mahogany
Fret Board- Walnut (12 frets)
Bridge- Walnut
Neck- Mahogany (Great string action for beginners)
Who is It For?
Anyone just starting the ukulele. Anyone looking to smash ukulele, or anyone that wants a pineapple ukulele as a gimmick!
$59.00
In Stock
16 new from $59.00
as of December 3, 2022 10:47 am ⓘ