Introducing the Neuman NDH 20 Headphones
Neuman's intentions for this headset were to create headphones that sounded like studio speakers (at least a similar sonic landscape)! And to create a closed-back headphone that didn't have any awful mid-range buildup like other closed-back headphones usually do!
Neuman
is one of the world's greatest music speakers, headphones, and microphone manufacturers. They are based out of Germany and take their work seriously!
I've had these cans for about 4 months, and I've put them to the test. Running them through a few sessions of mixing, mastering, and recording. I've endured long sessions with these bad boys hanging on my head, so I want to share my experience: Listening, Mixing, Mastering, and Recording!
Parlours Music is supported by its audience. When you purchase through links on the site I may earn an affiliate commission. Thank You, it's what keeps the site free for everyone!
Listening
The Set-Up.
Audiophiles usually want the entire set-up used, as every piece of gear will alter the final sound produced. I also listened in both Consumer mode and Mixing mode just for a fuller picture.
So here is the set-up:
Headphone Specs: Neuman NDH 20
38 mm dynamic driver with neodymium magnets
150 Ohm Impedance
Frequency Range: 5hz-20KHz (-3dB)
Total Harmonic Distortion <.10% (1kHz, 100dB SPL)
Consumer Setup
iPhone 8
Lightning to audio 3.5mm jack adapter
Played Off Of Spotify
Mixing/Mastering/Recording Setup
Apogee Duet Audio Interface (no pre-amp)
.wav files off of Logic Pro X
Sound Profile: Studio Test
Transients and Stereo Image
The NDH 20's have an amazing sense of stereo separation, because well they're headphones! But they sound naturally spaced, unlike many other closed-back headphones. Each sound is projected well and is easily distinguishable. The image isn't split down the middle either, it flows from one ear to the other, and maintains stereophonic quality splendidly! Like a great pair of studio speakers to be honest.
These things are like listening in close-up. You can zoom in on any and every transient. They make any distorted transients quite obvious to the ear, something that I can't usually differentiate with other closed-back headphones!
Treble
*For A Reference on the Audio Spectrum*
Incredible response in the treble range: everything high-mids and higher-end is crystal clear, and nothing sounds over boosted or exhausted.
Mid
Similar to other headphones, the Neuman NDH 20s focus the midrange, around where the vocals in a mix are located. It almost sounds like a frequency bump, but it's not. The clarity in the vocals is a byproduct of the masterful engineering of each element taking up just the right amount of space in the sound stage.
Bass
The Neuman NDH 20's are flat in the bass. Which is a great thing! They give you a really clear and true image of the bass. You can really tell what is happening in the lower ranges. It might take some time to listen and learn if you are used to the bumping sound that some manufacturers put into their lower-end.
The NDH 20s produce subharmonic sounds (40 Hz and lower) in a unique way: the range is easily audible. These frequencies are, well, predominantly felt not heard. So it's strange that these headphones so easily produce an audible sound subharmonically. It doesn't sound hyped, because there is no unusual muddying or unbalancing of the sound. The sounds are distinct!
How has Neuman got this sound? I have no idea (maybe the sound is calculated from overtones?). But honestly, it is super useful for mixing and pinning down each part of the bass!
iPhone Test
How did these cans do when playing through an iPhone 8 with an adapter? Not so hot. The stereo becomes a little less clear, the bass is not packing as much as it once did, and the sound feels kind of dim and lacking any polishing (which can be good sometimes). The output is quite low, I had to turn the volume up on the phone quite a lot to get to good listening levels, but that's related to the impedance and isn't a big deal.
I would recommend driving them through a pre-amp before the iPhone, or maybe listening from a higher quality streaming service than Spotify to fix these problems. But really switching to a good ol' audio interface is your best bet, and is required to get the sound described further above!
Comfort
These Headphones are quite comfortable. They rest easily on your head and hug you gently. They are not tighter than they have to be to keep in the sound, and they do not feel heavy.
I will say that in a hot room after a few hours your ears get quite warm, and sometimes feel a little sweaty afterward, but in cold climates, it's not a big issue.
My head is massive, so these things leave the area around my ears a little sore after 3-4 hours of wear time. But in quick listens I notice nothing.
What's In The Box?
There is a:
Headphone set, with a cable input that locks the audio jack in when turned to the right (suprisingly useful, to make sure your headphonesdon't ever pop-off)
Coiled Cable, pretty heavy but very aesthetic and smooth (The orange end goes into the audio interface, and the black end into the headphone)
Straight Cable, shorter but the rest is the same as above
Cable Adapter
Headphone Case, the Neuman NDH 20's easily fold up and fit in this bag (prevent scratching and dents)
Mixing
These things are a dream to mix in! The stereo separation allows me to put every sound in the stereo field with an extreme degree of precision that is very rare in closed-back headphones. When I was EQ'ing I could cut and boost each frequency while fully experiencing what I was doing. The details relayed back to me were immensely helpful and when I played it back on speakers it sounded just right!
After a bit of practice with the bass and treble, I made quite well-placed cuts with single-band high pass and low bass filtering! And panning was a breeze!
Mastering
Now I'm no master at mastering, so take what I say with a grain of salt.
These things were particularly hard to get nailed down. But once I did figure out the flat low end, I was able to better guide and steer melodies to a non-distorted and cheery state.
The Neuman NDH 20's clearly exposed any distortion and transients that shouldn't be there, so the QC process was quick and simple!
Recording
These are my go-to, recording headphones. They easily keep out, outside noise yet at the same time provide a high-quality listening experience for when you are hearing the track while playing/singing/whatever.
Any singer using these while tracking can easily hear themselves and can pinpoint any issues they have with sound given the definition they provide. And I highly recommend them for recording artists.
Conclusion
These headphones are a great addition to anyone's collection or any beginner that really wants to spend a lot on their first pair! I currently use these for mixing and for listening to music most of the time!
I recommend these for anyone looking for a great closed-back headphone for mixing.
Where to Buy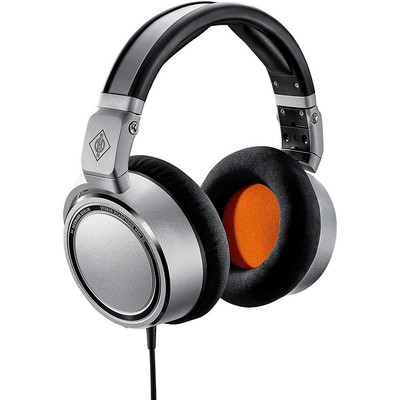 $549.00
In Stock
12 new from $549.00
as of March 31, 2023 5:49 am ⓘ
Price Tracker
All prices mentioned above are in United States dollar.
This product is available at eBay, Amazon.com.
At ebay.com you can purchase Neumann NDH 20 Studio Monitoring Headphones Silver for only $499.00, which is 9% less than the cost in Amazon.com ($549.00).
The lowest price of Neumann NDH20 Close-Back Monitoring Studio headphones was obtained on March 29, 2023 3:32 am.
-